What to Look for in Staunton Chess Pieces: Choosing a Chess Set
How do I choose Chessmen?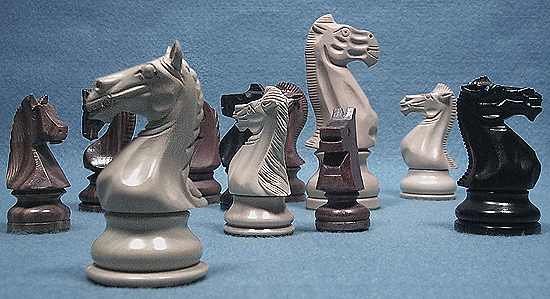 Introduction
Ok ... So you probably noticed we have many chess pieces to choose from; over 400 as a matter of fact. Over 150 are of the traditional wood Staunton type. For some, choosing one set out this vast selection may be a bit daunting. Well ... here is another installment of our guidelines that have helped our customers. This little aperçu should help in making a selection of wood Staunton style chess pieces.
The choice of a staunton chess set is not an exacting science, but instead, relies heavily on personal taste and preferences. But there are ways of determining what constitutes a nicely designed set from one that is somewhat generic or ordinary. You need to decide first off if you are looking for a set that fulfills more of a functional need, or if your looking for something that does this and offers a high degree of quality and artistry.
Setting your Priorities
As is the case with most decisions in life, you need to determine your priorities when choosing a chess set. Ask yourself these questions:
Is this chess set for serious playing or for decoration?
What is my budget?
What kind of chess board do I have?
How big are the playing squares on my chess board?
Will I be traveling with this chess set?
Are "brand names" and their advantages important to me?
Is this a chess set you intend to keep for generations or as a collectable?
We will examine these questions and other issues one at a time. Don't feel this is a daunting task, it is actually a simple matter of looking at a set and seeing if it is attractive to you. It is sort of like buying a car, if it's pretty you'll probably buy it. Of course, you should be well informed about the quality and construction of an automobile before making a purchase. That is the scope of this article in relation to chessmen.
Questions Answered
Is this chess set for serious play or for decoration? This question may seem obvious but actually there are things you should consider. Aren't all sets made to be played. Well, not actually. Some sets are wonderful to look at, but do not play well. What does that mean, you ask? Well ... consider one of our themed crushed stone sets, like the incredible hand painted American Revolution chess set. Absolutely gorgeous! But when you play a game with it, it may be difficult to identify the pieces as to what they are. Bishop, queen or pawn.
This was one of the reasons why the "Staunton Pattern" came about in the first place in the mid-19th century; it was 1849 to be precise. There were many chess sets out there with no standard, and they were unstable physically. The call went out for simple, easy to identify set of chessmen. John Jaques & Sons of London answered the call and started to commercially produce Nathaniel Cook's pattern for chessmen. This is what we now know as Staunton style chess pieces; the pieces we all know as traditional chessmen. If you want to read an article on the history of the Staunton Pattern you can go to the article named "Brief History of the Staunton Pattern".
Now, if you play tournament or your interest is in serious play, then the choice would obviously be a Staunton pattern set of chessmen. Below is a very good example of a well design Staunton style set of chessmen. This is our 4" Ebony Imperator Chess Set which sells for under $500. (This happens to be my personal favorite. Read our review on the set to find out why we think it's so special. Click here!)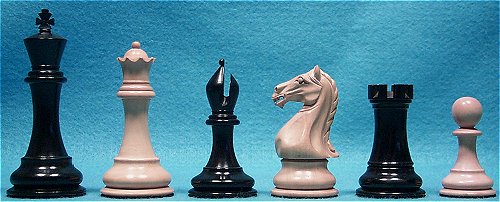 You would choose a Staunton pattern if you want to have a clear, intuitive chess set to identify during game play or if your just a traditionalist. If you are not concerned so much with this issue and are looking for a chess set to add to an existing decor then you could choose a set that relates to that decor or the theme of the decor. For instance if you have a collection of Louis XIV furniture we have chess sets that are appropriately themed. In fact we offer a chess set with Louis XIV and his court. If southwestern styling is your thing we have a large assortment of Cowboy & Indian chess sets or a chess set about ranchers named "Range Wars". Choose these types of chess sets if decoration is your only consideration. But if you need something purely for playing the game of chess, choose a Staunton chess set. Conversely, Many Staunton chess sets work well in almost any decor; they are simply less decor specific.
What is my budget? A simple question, and one you need to ask yourself. Our chess sets range from as low as $5.99 for basic Plastic Tournament Pieces, to as high as nearly twenty thousand dollars for the Nomi Klein, so as you can see we can accommodate all price ranges.
What kind of chess board do I have? If you already own a chess board or intend to buy a specific size board, this obviously will determine, at least, the size of the chessmen. If you want some guidelines as to how to match the sizes of chess pieces and chess boards check out Chess Piece & Chessboard Sizing Guidelines. This guideline page will answer this question quite completely.
Also, some thought should be placed on the wood types used in the board and how the match or contrast the chessmen. If you want to study up on woods we have some articles written about woods for both boards and chess pieces. For boards, check out Wonderful Woods for Chessboards. For pieces, look at Wonderful Woods for Chess Pieces. Furthermore, the relationships in terms of matching or contrasting wood colors is outlined in the Chess Piece & Chessboard Sizing Guidelines page.
How big are the playing squares on my chess board? Once again this question is dealt with in the Chess Piece & Chessboard Sizing Guidelines page. The size of the playing squares are not only important for tournament play (there are specific allowable sizes), but also you don't want to crowd the chess pieces you choose.
Will I be traveling with this set? This is an interesting question. Many players take along their chess sets wherever they go. If you fall into this category it makes sense to purchase chessmen that can take the abuse of the road. Most tournament or club players understand this, and usually buy heavy staunton plastic chess pieces. These chess pieces are usually less expensive and therefore easily replaceable if they break. Below is an image of a very fine set of plastic chess pieces generally used at clubs and tournaments.
Some club players will choose a nice wood chess set also. If this is what you planning then choose a set, of course, that is sized within the tournament rules. Furthermore, choose a chess set that seems durable; in other words, a set that doesn't have very fine finials and such. The ebony chess pieces shown below is a very fine set designed for tournament and club players specifically, made by The Mark of Westminster.
Are "brand names" and their advantages important to me? This one will take some explaining. In the chess world, there are not many "brand name" products. The few companies willing to put their name on their products, produce some of the truly finest products available. We mentioned one already; the Mark of Westminster who make some of the most distinctive sets of chessmen available. Another name in pieces you can look at are The House of Staunton. These chess sets are universally considered by most as the finest Staunton pattern sets made. Other high quality chess sets are made by Jaques of London, and on the more economical front, Drueke (wood and plastic chess sets).
The advantage of a brand name product is that usually you will receive a chess set that has much better quality control, and a predictable appearance. Also, the overall quality of the chess set will be much better. This includes the style, carving, finish, packaging, documentation, and other similar factors. If your looking for something outstanding, then consider the advantages of choosing a product with a brand name.
Is this a chess set you intend to keep for generations or as a collectable? This is related to the previous question. Brands like Jaques are considered collectable because of their history and quality; they were the folks who were first to produce the Staunton pattern in the first place. If you are looking for a chess set to hand down to future generations (heirloom item), it is a good idea to look for something that is of high quality, and will survive over many years of use. Chess Sets made from ebony are very long lived, primarily because ebony is such a hard wood.
CHESS SETS FROM AMERICA'S LARGEST CHESS STORE
Chess USA is America's leading retailer of chess sets, chess pieces, chess boards, and more. In fact, for 30 years Your Move Chess & Games has been the leading retailer of all things chess! Not everyone can view the hundreds of chess sets we have on display in our New York Chess Store, which is why we strive to have the most detailed chess website anywhere on the internet. After All, with over 2,000 chess sets, chess boards, chess pieces, chess computers and more, we need to be detailed! No matter what you are looking for, from chess set or chess program, our knowledgeable staff is ready to help.
Have a Chess Set already, and just need to freshen up on the rules? We've got them - just click here.
Your Move Chess & Games, America's Largest Chess Set Store. It's Your Move!