Shipping Details and Return Policy
Our standard return and exchange period for any order is thirty days. As we move towards the holidays, we try to make every accommodation. Our Holiday return and exchange period is extended through January 31st for all orders.
RED
... Use 3-DAY SHIPPING for holiday delivery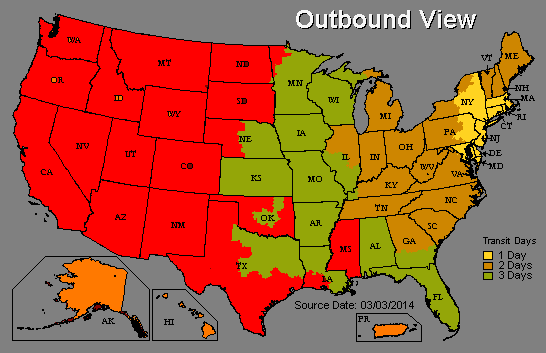 To find out how long your package will take to arrive, use the following color guidelines with the image above:

RED... Use 3-DAY SHIPPING for holiday delivery


YELLOW... 1 business day of travel time
BROWN... 2 business day of travel time
GREEN... 3 business day of travel time
RED... 4 business day of travel time
ORANGE... 5 business day of travel time

These estimates are through UPS and while they should be accurate, please note occassional delays occur outside of our control.

Please note, if you have a different billing and shipping address we will likely try to contact you via phone and email. This is to confirm the correct address verbally as an added precaution against shipping to the wrong place as well as protection against fraudulent transactions. Please check your emails and messages, or call us after placing your order if you would like to verbally confirm. We do not want any orders delayed!


Items shown on our website should be in stock and ship from our retail store in Massapequa, NY. Most items take two days to ship out (but you can choose the "Rush" option to have it processed the same day if before 3PM Eastern.


It is our goal to make your ordering process quick and easy. Above you will see a shipping map for ground shipping. Our brick-and-mortar chess store is located in Massapequa, NY and that is where almost all of our items will ship from. Please note there are some special order items that are shipped from a different facility.
We ship from the East Coast. The area around New York and New Jersey is Yellow.



What if I want my items faster? How do I know which shipping method to choose?
We understand that sometimes you need the item a bit faster than usual.
UPS Ground and "SPECIAL" Shipping offers all ship via the map above, and ship out within 2 business days of receiving your order
. If you need your shipment faster, our
Rush Shipping
option will bump you to the head of the line, shipping via the chart the same business day (if placed by 3PM Eastern).
If you need your package even faster, there are a number of weight-based options for 3-day and 2-day shipping. We do also offer Overnight Air shipping - call us for rates.
Please keep in mind that Saturday and Sunday do not count as business days.
What about International Shipments ?
Yes, we do ship internationally, via either Fedex International or USPS Priority or Express Mail. The price can be very expensive, but you can check the price when looking at items in your cart. We are not responsible for any tariffs or taxes at the destination country - the prices shown are shipping only.
f you have a special shipping request, simply write it in the "Comment's Section" of our on-line order form. We actually read what our customers write and make every effort to comply with any requests when possible. This includes delivery deadlines - if you choose the wrong option, we will do our best to contact you before shipping but can only wait the remainder of the day for a response, otherwise we will have to ship it out via the method selected.
ChessUSA Return Policy
Your Move Chess Return and Exchange Policy
Should you receive any product from Your Move Chess & Games and be dissatisfied with it for any reason, simply return it within two weeks of delivery for a refund or exchange. No RA number is necessary, but please call so we can note the return in our system. Unfortunately, we cannot provide a prepaid return label for returns.
Shipping and Giftwrap charges are not refundable, and merchandise must come back in as-new condition with all original packaging materials. A restocking fee (usually 5%) shall apply. Restocking fee will be waived for exchanges.
Please Note: Special order items, videos, dvds, clearance, licensed board games, scratch and dent and software items are non-refundable and non-exchangeable. We apologize for any inconvenience this may cause!
Important! Other FAQ's Regarding Returns/Exchanges and Shipping.
Please inspect your package upon receipt for any damage. If your shipment is damaged, have no fear - everything is insured! Please notify us immediately and we can file the appropriate claim. This process can take up to two weeks, but we often try to ship a replacement before the claim is resolved. We ask you hold on to any damaged item and packaging during this process as the shipping company many require to pick it up for inspection.
If your order was shipped for free, the cost of what shipping would have been may have to be deducted from the refund. If you decide to exchange the item for another, the restocking fee (but not the shipping) shall be waived.
If you refuse or redirect a package, there is an additional charge. This is not a charge from us but from the carrier. As of January 2017 that charge is 13.60 for a redirect, and a refusal will cost the shipping back to our store which will be applied to your order before any refund.
If you are unable to receive your package, please call UPS (or us) immediately. If an Item is returned to us, we will have to reship it (and you will have to pay shipping again). Please always use a
Street Address
when providing your shipping address. Fedex cannot ship to a POBOX, which may delay your package.
If you make a mistake in your address, please contact us immediately. We can sometimes intercept the package and have it corrected for you. Unfortunately, UPS charges for that service as well. As of January 2017 that charge is 13.60.
Shipping Methods and Charges - Details
Shipping within the U.S. will be made via UPS, Fedex ground or USPS, depending upon the size, weight, destination, and total value of your order. We will do our best to accomodate special requests.
All orders received for in-stock product are processed and shipped within 1-3 business days of receipt - usually the same day if the order is recieved before 2PM Eastern Time.
Ground Shipping
: The standard UPS, Fedex or USPS delivery. Use the map below and add 48 hours for an approximate delivery time. Note that Saturday and Sunday are not considered business days for shipping.
Rush Delivery
: Use the map above, but if the order is placed before 3PM Eastern, it should ship out the same day. Please bear in mind "Ships same day" means it leaves here the same day, not that it arrives to you the same day. Note that Saturday and Sunday are not considered business days for shipping.
Air Services
:UPS Overnight, 2nd Day, and 3-Day Select take that many days, however please note that Saturday and Sunday are not considered business days for shipping. That means if you order something via 2nd day air on a Thursday, it will arrive on a Monday. Remember, UPS service can not ship to a PO Box, so always put a street address or this may delay your order.
Orders received on weekends are processed and shipped on Monday or Tuesday. This also applies to rush delivery, but they will be processed first. The following map shows approximate UPS ground delivery times, in business days (not counting Saturdays, Sundays, and holidays), within the continental U.S.
Foreign Shipping
Shipping outside the continental U.S. is made via priority mail international or express mail international. Due to varying sizing regulations, not all shipping options are available for every country.
When you place an order, it will notify you that we will email you shipping costs. This generally takes about 2 business days because we need to physically pack up and weight the item. You are under no obligation to purchase until you confirm a shipping method.
For International UPS shipping, please call for rates and available methods. We generally do not recommend it because it is extremely expensive. Our listed prices cover our shipping, handling, and insurance, but do not cover any duties or fees that may be imposed by your country. Those costs are the obligation of our customers.
Free Shipping includes our super-fast handling of your order and ground UPS or Priority Mail service. Should you desire even faster delivery (at an extra cost), simply proceed with your on-line order. The prices for even faster options will be given before you have to actually submit your final order.
CHESS SETS FROM AMERICA'S LARGEST CHESS STORE
Chess USA is America's leading retailer of chess sets, chess pieces, chess boards, and more. In fact, for 30 years Your Move Chess & Games has been the leading retailer of all things chess! Not everyone can view the hundreds of chess sets we have on display in our New York Chess Store, which is why we strive to have the most detailed chess website anywhere on the internet. After All, with over 2,000 chess sets, chess boards, chess pieces, chess computers and more, we need to be detailed! No matter what you are looking for, from chess set or chess program, our knowledgeable staff is ready to help.

Have a Chess Set already, and just need to freshen up on the rules? We've got them - just click here

Your Move Chess & Games, America's Largest Chess Set Store. It's Your Move!