It's time for Summer but are you ready to play?
The weather is getting warmer. The grass is green, and the flowers are starting to bloom. Were you thinking about your next chess match or board game night? Well.. if not, we'd like to change that!
This is also the season of Moms, Dads, and Grads. I believe one of the best gifts is that which can be shared. So we're going to make it a little easier to get that game you've been after, or that amazing new chess set to play as well as admire in your home… for both you and your favorite someone – in more ways than one!
20% Off Any Purchase plus another 15% off later!
All you need to do is enter coupon code: SUMMEROFCHESS2019 during checkout and you'll get 20% off any order as well as a coupon for another 15% off your next purchase valid all year long. This applies to everything in our store. There is no minimum order and the coupon can be combined with already marked down items.
Just visit our website: www.ChessUSA.com to get started. Shop Now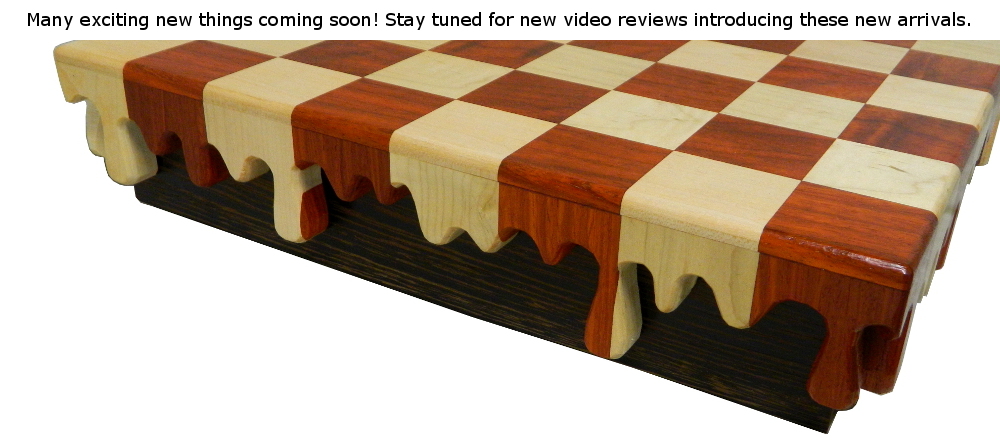 Wait till you see what new items we have in store!
The other exciting thing that happens for us over the summer are the new arrivals. ChessUSA already features thousands of items from traditional and theme chess sets to all manner of strategy board games, with dozens of restocks and many more to come. Additionally, over the next few months we expect a whole suite of new items from the much-anticipated DGT Centaur Chess Computer (pre-orders available now) to dozens of new exquisite theme chess sets from Manopolous to restocks of customer favorites including marble chess sets with some new improvements we think you'll love. In fact, these arrivals have already started trickling in. We have already stocked new affordable travel chess sets based of our popular "Best Magnetic Chess Set Ever" line as well as amazing, Dali inspired 'drip' chess boards made by a local artist here on Long Island (as seen in the image above).
They'll be a video review of that board soon – as well as additional reviews of a host of other new arrivals – so stay tuned. We have a lot of great new items in store for this year, and all summer long i'll be rolling out videos with some of the highlights.


Wait a second – I've been to your store. How are you going to find the room for all of this new stuff?
We always need to make room, and that means some other sets that have been on hand for a little too long need to go. If you're looking for the best deal, don't forget to check out our clearance section. It has just been updated with many new items and all of these are already discounted – sometimes by substantial amounts… and yes, this coupon works even on these instantly discounted items!
Staunton Chess Pieces – up to 50% off
Assorted Chess Boards – up to 50% off
Theme Chess Pieces – up to 50% off
Happy Summer!