Our Unique Handcrafted Dali Inspired Storage Boards
Handmade locally here in New York, these Dali inspired storage boards are one of a kind. With their defining drip feature, these boards are not only great for play they can also be excellent statement pieces in any home. See our complete video review of this exciting new chess board in the embedded video below.
Beautiful, Thoughtful Craftsmanship
If you're looking for a storage board that's not only functional but is also a true work of art, these are precisely the boards for you. They're made in three different wood types, Walnut, Wengue and Padouk and we're confident that no matter your taste there's sure to be a board that suits you. The board's signature drip styling runs all the way around the top and the woods are completely solid, not a veneer or inlay so there's no question this chess board is of the highest quality.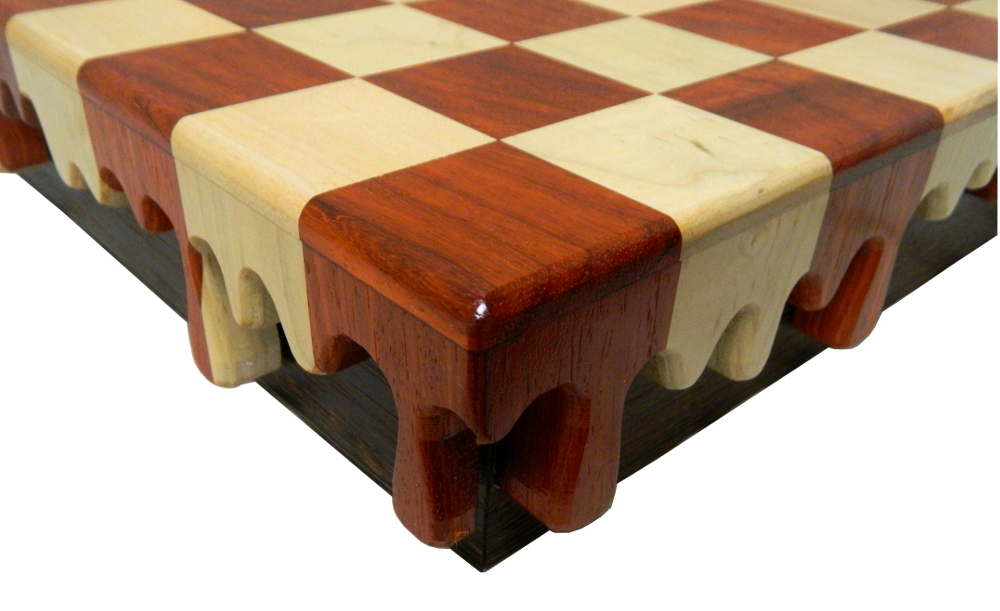 At 17 3/4″ with 2 1/4″ squares, it's quite the sizable board and suitable for any tournament size chess pieces. The chessboard features a solid wengue base for each color combination which contains the interlocking grid perfect for storing chess pieces up to 4 1/4″ tall. See additional pictures and details of all three color combinations below:
For Our Heirloom Dali Inspired Solid Wood Chess Board Collection Click Below:
17 3/4″ Walnut Drip Storage Chess Board
17 3/4″ Wengue Drip Storage Chess Board
17 3/4″ Padouk Drip Storage Chess Board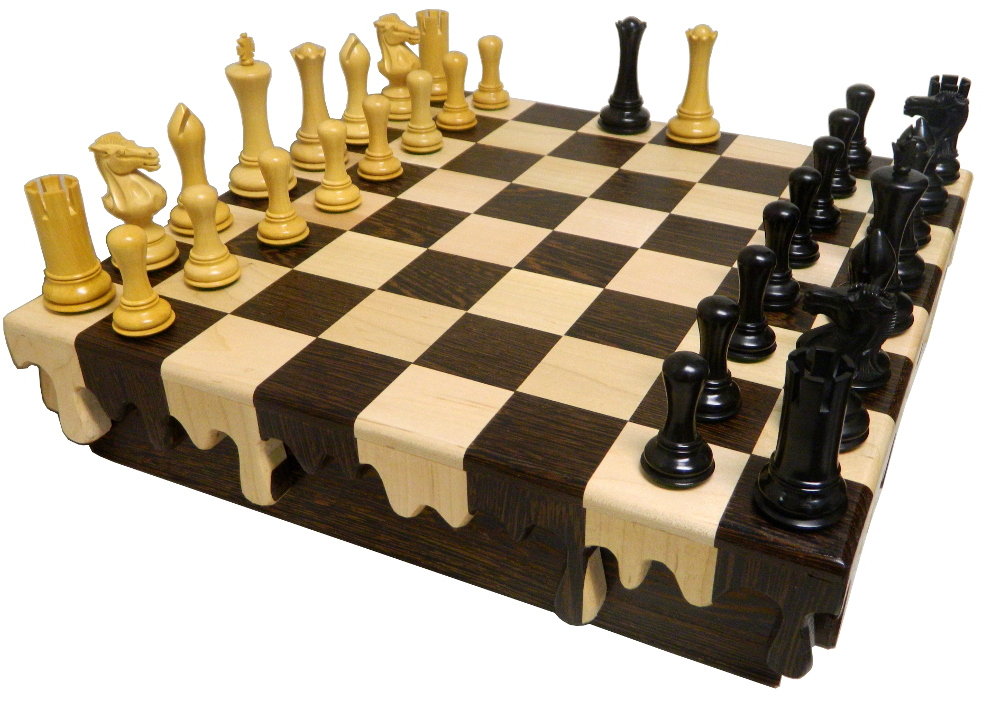 We've also paired these boards with sets of Tournament Size Vanguard chess pieces. The Vanguard Staunton design shows a modern influence to a classic design. These heirloom-quality Mark of Westminster Chess Pieces are the paradigm of perfection and featuree weighted, hand-carved chessmen with extra queens.
For the Wengue board we've chosen the ebonized set, we paired the Walnut with a warm Honey Rosewood and for the Padouk we chose a vibrant Crimson Rosewood. These chess sets are available completely on their own as well so you can make the perfect combination chess set of your choice.
For Our Heirloom Dali Inspired Solid Wood Chess Sets With Vanguard Pieces Click Below:
17 3/4″ Walnut Drip Storage Chess Set
17 3/4″ Wengue Drip Storage Chess Set
17 3/4″ Padouk Drip Storage Chess Set
For Our Entire Dali Inspired Chess Collection Follow The Link HERE: