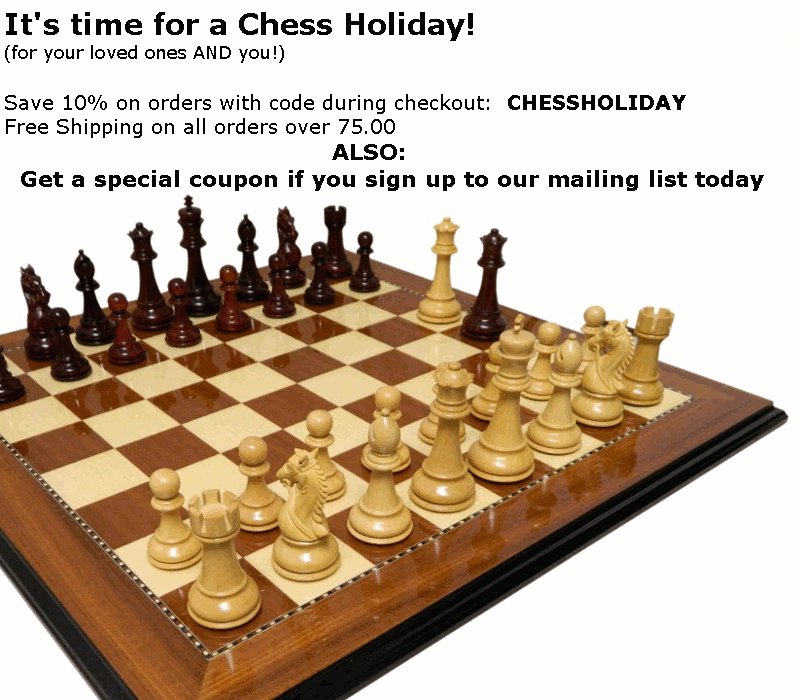 The Chess and Games Holiday is ongoing!
Join our Mailing list today and you will get special discount codes and offers.
Signup to our Mailing List Here!
It's Time for a Chess Holiday
Enter code: CHESSHOLIDAY for 10% off any order.
Free Shipping on Orders over 75.00

Enter this code during the second page of checkout (above the shipping options) for the additional savings on top of dozens of the instant savings elsewhere on the site. Check back often as new savings will be available throughout the week. These coupons cannot be combined with others.

Looking for a Gift for the Holidays? Here's a place to start!
These Amazing deals are store-wide, but here are some places to get started:
Gifts under 50.00
-
Gift Ideas from 50.00 - 100.00
-
Gift Ideas from 100.00 - 250.00
-
Luxury Gifts over 250.00
Up to 40% off Heirloom Chess Sets
Up to 50% off Clearance Theme Chess Pieces
Up to 50% off Clearance Staunton Chess Pieces
Up to 50% off Clearance Chess Boards
This is the time to get a fantastic deal, and many have limited quantities - act fast because once they are gone the discounts go with them!
Looking for an even better deal?
We now have dozens of eBay auctions for last one store displays, factory seconds, and damaged or refurbished chess sets. These auctions at unbelievably low prices as we look to move them out the door. Expect more - dozens - of these special buys to appear between now and the end of the year.
See our eBay Auctions HERE.
please note you cannot apply our coupns to eBay sales