We're really excited to be able to bring you a great deal on The Polgar Method, the brand new, complete course from GM Susan Polgar.
A couple of months ago, Susan teamed up with our friends over at iChess to create the ultimate training program for club players. Filmed in person in St. Louis, this course includes 10 volumes covering everything from openings, tactical play, how to convert advantages, to positional play and more.
The goal of the series is to give you a glimpse into the methods Susan uses as a FIDE Senior trainer and head of the SPICE college chess team to improve her students' play as quickly as possible.
Her teaching philosophy puts a strong emphasis on actually understanding chess principles instead of just memorizing moves. This method was used by Susan's students to win the US chess college championship 6 years in a row!
This course is for club players who want rapid improvement to expert status and beyond and is recommended for people at the 1400-1900 level. If you are still a super beginner, this course may not be for you (though if you are around 1200-1400 level I think you'll be able to handle the content).
Now, for a few days only, you can get The Polgar Method for half the usual price!
Click here to claim this deal.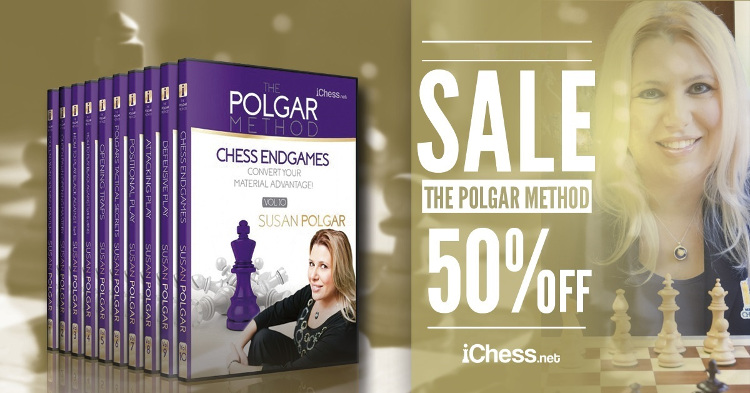 Study The Polgar Method and you will:
• Have a watertight opening repertoire based on understanding themes so that, no matter what your opponent plays, you are able to find the right idea quickly and confidently. Susan gives you her recommended repertoire for facing both 1.e4 and 1.d4, plus a universal set-up as White. Each opening has its emphasis on playing for the win.
• Be able to win games by snowballing small positional advantages – such as a Queenside pawn majority – until the opponent is pushed off the board. Susan teaches you Capablanca's method in volume 7, Positional Play.
• Know how to make your attacks hit hard by using Susan's specific strategies depending on where the enemy King is in relation to yours.
• Be able to resist attacks by combining defensive moves with counterplay. Defensive play, along with the endgame, is an untapped source of rating points. Too many club players crumble when faced with threats but this will change after seeing Botvinnik's mastery in volume 9.
• Have all the essential endgame knowledge required to convert the advantage you've painstakingly built over 40+ moves. Endgame theory never changes, making this the best one-time investment in your chess available.
To make sure you get the maximum value out of The Polgar Method, each of the 10 volumes includes these bonuses:
1. The complete annotated PGNs with all of Susan's analysis, recommended lines, important positions and all of the instructive games featured in the lesson. Now you can analyze with your engine or go through the material quickly to find that one idea or key move.
2. Practical tests for each course, so you know for sure you'll be able to apply the material in a real game.
3. Detailed course summaries in PDF format so you can easily review each lesson and remind yourself of the key points.
The Polgar Method really does deliver on the promise of being the ultimate training program for club players. This is your chance to learn how to play with more power, control games, become super-solid in defense and relentless in attack. And, if you're quick, all at half the price everyone else will pay.
Click here to claim this deal (Digital download or Physical Disks)