Your Move Chess & Games eBay Extravaganza and Summer Chess Sale Blowout – Final Days!
Greetings from ChessUSA!
We're just a short time away from some really exciting new chess pieces – the first of a luxury line of exclusive staunton chess pieces developed in house and available for the first time, as well as some intriguing and amazing new artistic designs of luxurious chess boards and sets. As part of a greater revamp, we'll be doing something new: Video reviews of these new chess items (and then perhaps some video reviews of the old as well! Stay tuned, as the first of these will appear on our youtube channel and website very soon.
But Today – Our Biggest eBay Sale Ever!
Before our new items, it's the final time for the old. For years we've maintained a healthy amount of scratch and dent, factory seconds, and overstock items on our eBay page. In order to fully prepare for our new line up, we need it all gone – once and for all. Rachel, who has been so kind to organize our eBay auctions over the past years is also moving on later in the year – so this is it.
Over 200 Items on eBay… Right now.
This is the time to get a huge assortment of chess items at auctions starting well below our cost. It's just time to move them out the door. We have hundreds of items up already, and many more to appear before the week is through.
ChessUSA's Summer eBay Blowout – Click for Current Listings
Our ebay listings include wooden chess pieces and boards, theme chess sets, unique and discontinued items, and much more. The first batch of auctions will be ending this weekend, and with Rachel leaving, there is very little we're holding back.
As always, we're happy to combine shipping when possible, and in-store pickups are also available.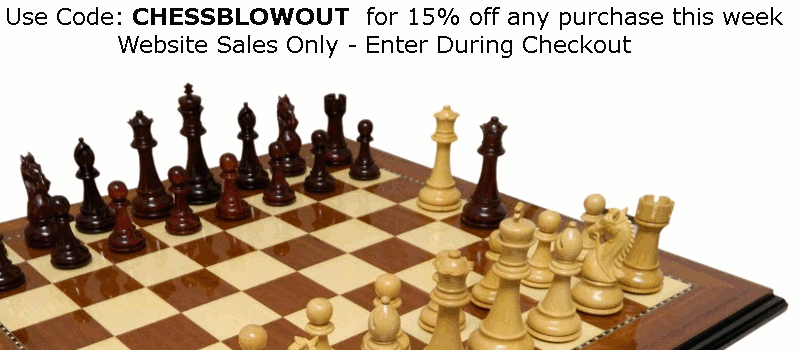 What about the rest of the cool chess stuff?
These auctions are not long, and we have many 'buy it now' items if you're not willing to wait. We know not everyone is comfortable with eBay, so we do offer another options – don't forget to check our sales and discount pagse for new reduced and discontinued chess items on our site – this includes amazing, hand carved wooden chess pieces for as much as 50% off. These are discontinued items and are otherwise new.
Staunton Chess Pieces – up to 50% off
Assorted Chess Boards – up to 50% off
Theme Chess Pieces – up to 50% off
If you STILL haven't found what you're looking for – you can order anything directly on our website this week for a 15% discount. No exceptions. Just enter the coupon code CHESSBLOWOUT during our checkout page this week.
Feel free to give us a call if you have any questions. We'll be offering a preview of some of these new arrivals soon, but if you've been waiting for the right time to find unbeatable prices, this is it!
�