In honor of the release of the Marvel Cinematic Universe's latest movie, Dr. Strange, we're taking a look at some of our Marvel themed games here at the store.  These games are a great gift for the Marvel fan in your life!  
Legendary: A Marvel Deck Building Game  is set in the Marvel Comics universe. 
To set up the game, players choose a number of hero decks – Spider-Man, Hulk, Cyclops, Wolverine, etc. – and shuffle them together; since players use only a handful of hero decks out of the fifteen included, the hero deck can vary widely in terms of what's available. Players then choose a mastermind villain (Magneto, Loki, Dr. Doom, etc.), stack that particular villain's attack cards underneath it, then modify the villain deck as needed based on that villain's particular scheme.  
Over the course of the game, players will recruit powerful hero cards to add to their deck in order to build a stronger and more resourceful deck. Players need to build both their recruitment powers (to enlist more heroes) and their fighting ability (to combat the villains who keep popping up to cause trouble). Players recruit heroes from an array of six cards, with empty slots refilled as needed. At the start of a player's turn, he reveals a villain and adds it to the row of villains. This row has a limited number of spaces, and if it fills up, the earliest villain to arrive escapes, possibly punishing the heroes in some way. Some villains also take an action when showing up for the first time, such as kidnapping an innocent bystander. The villain deck also contains "master strike" cards, and whenever one of these shows up, the mastermind villain (controlled by the game) takes a bonus action.
As players fight and defeat villains, they collect those cards, which will be worth points at game's end. Players can also fight the mastermind; if a player has enough fighting power, he claims one of the attack cards beneath the mastermind, which has a particular effect on the game. If all of these cards are claimed, the game ends and players tally their points to see who wins. If the mastermind completes his scheme, however – having a certain number of villains escape, for example, or imposing a certain number of wounds on the heroes – then the players all lose.
The Legendary universe gets flipped upside down in Legendary: Villains – Marvel Deck Building Game.
Tired of playing the hero's role? You can now play as villains trying to take out the heroes protecting the city!
The goal of the game remains roughly the same as in the first Legendary game as players can work both with and against other players to overcome obstacles that the game throws at them. In this case, however, players use the super villains of the Marvel Universe — including Venom, Magneto and not Thanos — to battle superheroes such as the X-Men, the Avengers and Spider-Friends.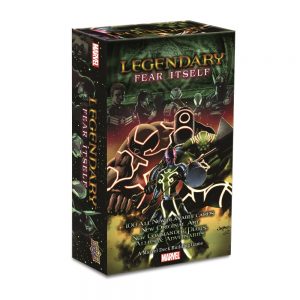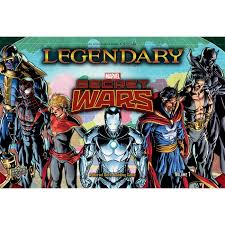 We also carry the Legendary expansions, including Fear Itself, Guardians of the Galaxy, Spider-Man, Paint the Town Red, Dark City, and Secret Wars.  Add heroes and villains from all the sets to create your own unique Marvel Legendary game!
Our second board game is Marvel X:Men: Mutant Revolution.
In the aftermath of the Phoenix event, new mutants are appearing all over the earth. Wolverine, Cyclops, Magneto, and Storm each have a vision for the future, but will they unite humans with mutants — or will they tear the world apart?
X-Men: Mutant Revolution is a head-to-head battle for the future of mutantkind in which 3-4 players play as Wolverine, Cyclops, Magneto, or Storm, leading their individual schools with unique powers and abilities and recruiting heroes and students in order to train them and send them on missions to spread their vision for mutants to the world.
X-Men: Mutant Revolution is based on Spartacus: A Game of Blood and Treachery from Gale Force Nine and will include four character miniatures with the HeroClix dial technology.
For fans of the Dice Masters series we have two starter sets for Marvel fans: Uncanny X-Men and Age of Ultron.
For a more tactical challenge,  try Risk! Marvel Cinematic Universe.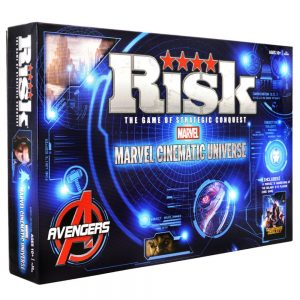 Play as one of five factions, each with its own victory condition, representing heroes and villains in the Marvel Cinematic Universe.  The main board is for 2-5 players played out over a city map for sector control. A 2-player map is included for the Guardians of the Galaxy card game.)
Finally, we've got a Marvel themed chess set.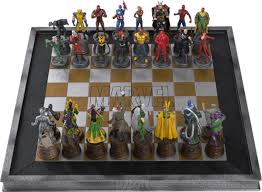 This set includes 16 hero pieces and 16 villain pieces and requires some assembly.  The pieces are made of cardboard and are perfect for teaching a young Marvel fan how to play.  A great set for beginners.
Let us known the comments if you'll be joining us at the movies this weekend for Marvel's Dr. Strange.