This week's highlight is our horror chess set of Skeletal Warriors.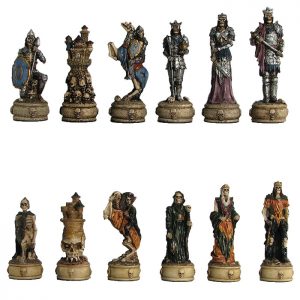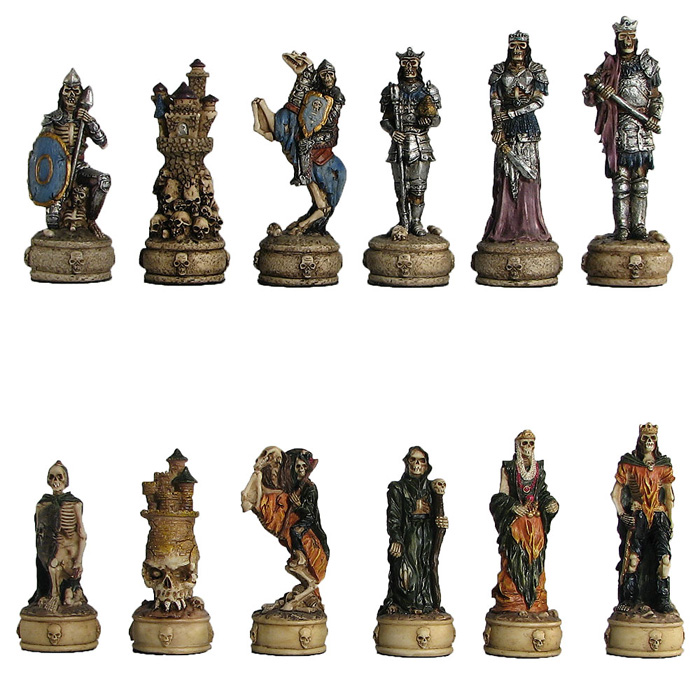 These fearsome skeletons are just a little late for Halloween! Both sides on this horror chess set feature distinct rooks, knights, bishops, queens and kings, along with two distinct sets of pawns. The pieces are well suited for play, as the pawns are easy to spot, being the shortest pieces. The rooks are castles on hills of skulls, the bishops carry crosiers and the knights ride skeletal steeds. Kings and queens are clearly royalty, with one side suited up in robes and the other in armor.
Our spooky skeletons are hand-painted and crafted from polystone. Polystone is a compound made up of polyurethane resin mixed with powdered stone, which gives the chess pieces added weight and a porcelain or "stone-like" feel that is more durable than crushed stone, an expensive alternative. Additionally, polystone is slow to wear, making it ideal for collectors and casual players alike. The set doesn't come with a chess board, but would go perfectly with our 17" Fortress Board. Perfect for a sinister student or a macabre master.
Chess piece details:
King Height: 3 1/4″
King Weight: 1.2 oz
King Base: 1″
Recommended Square Size: 1 1/2″ – 1 3/4″